guess what - the papers are undergoing a major revamp.
corporate finance paper made me feel like i was playing mix and match because they can incorporate 2, 3 chapters into a single question! and there wasn't too much of those calculation/theory questions that students normally banked on. super surprising! but it doesn't mean the theory questions were easy. so i am 101% sure that the Macro paper will involve combining of topics. absolutely great! i can hardly wait!!

sigh - 2 more papers. just 2 more papers..
you know when you talk to your family members, you learn things you knew knew. i never knew my granddad was a excellent cook in disguise. he's those old school hawker guys. his best recipe is lu ya and i have no idea how to translate that into english. brew duck? stew duck? the point is - the old folks that used to live in chinatown would bring stuff to him to lu(boil/brew). and my dad knows how to make pig's blood cake. and alot of those weird pig collegent jelly and what not. yucks. i don't eat that stuff. and when the oreo siblings cook - my brother does the seasoning and adding flavour. the men in the house can actually cook!

frankly the men in the house don't step into the kitchen to cook at all, even though they know how to. what to do? my family comprises of 3 very traditional guys - they let womenfolk do all the housework. i do consider my brother semi-traditional. lol. the only memory of my dad cooking was black bean hor fun; MANY, MANY, MANY years ago. i think i was still in primary school then. wah - so long ago! but why didn't i inherit the talent to cook. i only know how to eat. lol. i am a fussy eater, my grandma always says.

and i conclude that the guys i share a roof with all have the same traits - impatient. or maybe it's a common trait among guys - guys can't wait! and all of us, with the exception of my mom and grandma have nasty temper. tsk tsk tsk.. feisty family we are.

eve of vesak day was spent at sakae sushi. the older folks still prefer chinese food so it is just the oreo siblings at sakae. the one at Icon Village has tabanyaki. so we got to eat the japanese pizza(da ban shao) and fried rice. and some other stuff.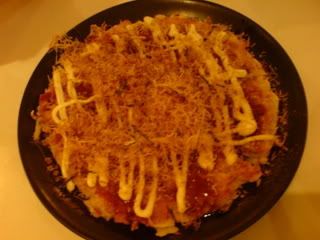 ba ban shao - super filling and not really nice. taiwan has nicer ones!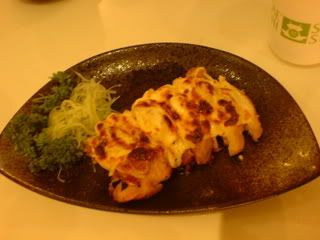 cheesy chicken chop. not too bad.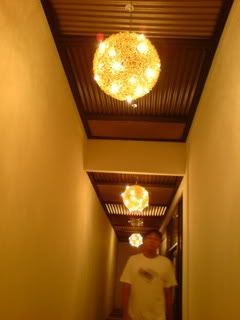 a very pretty corridor in Icon Village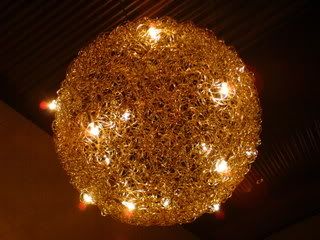 the lights - close up. so pretty!
we haven't really explored the mini shopping mall near our place. so this is a first. they have this really expensive Japanese restaurant that was featured on Life! just a month ago. i feel like trying but i think i can only try after i start working.
i seriously love those lights leh! i wish i was living in the Icon Village. it is one of those condos i think - complete with a gym on the 30th level. there are windows surrounding the gym so you can get a birdeye's view of CBD/suntec area when you go jogging at night - i think. i haven't gotten a chance to go up there!! sobs.... i am jealous. i wanna a apartment in Icon and i don't care if its puny.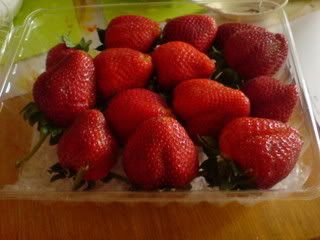 one big box of big strawberries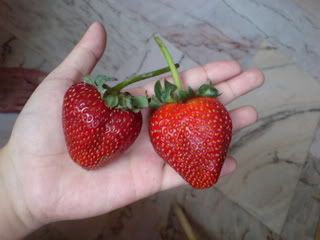 big strawberries in proportion to my big palm
dad bought strawberries home and they taste so good. it's like eating strawberry jam. Adelene said the strawberries in Italy were very, very sweet too. hmm. so if i close my eyes and savour these US strawberries, maybe i might be able to transport myself to wonderful Italy's farmlands enjoying freshly plucked, and very ripe strawberries. yah right.. hm.
Oh - rolling love 翻滾吧!蛋炒飯 started airing in taiwan early this may and i didn't even know! i managed to catch half an episode and i think this is a more intelligent idol drama compared to X-family but still pretty fun. the animations are cute and the colour concept in the drama's lovely. warm colours. =) i like! but i will only watch it after exams. i am still stuck at episode 2 of Absolute Boyfriend. tsk tsk tsk.
k - i am really hungry now because i haven't had breakfast and all my siblings are still snoring away. i do wish that i could sleep so much as them. but sadly, i never clock more than 9 hours. i must sleep more after my exams end because sleep is good for your skin! 2 more papers and freedom awaits! oh wait. some people have already gained their freedom at 1pm yesterday afternoon. damnit. *pouts*